By bellreisa - Last updated: Saturday, March 17, 2012
Courtesy of Komidol from Melty Bread, here is a list of fighting game terminology compiled by Japanese Melty Blood player Garu.
By bellreisa - Last updated: Monday, January 16, 2012
Today, we're going to explore the fundamentals of combos in Melty Blood. Melty is a combo-heavy game where fully understanding a character requires knowing how their moveset works and forces the opponent into specific situations. Some characters are heavy on setups and mixups. Others deal raw damage with poor options afterwards. Many lie somewhere in between. When practicing combos, it's important to have a full array of openers and closers so that you can adjust on the fly for the situation at hand.
By bellreisa - Last updated: Tuesday, January 10, 2012
Today's article is going to go over the various levels of competency in gaming. Once again, the concepts discussed here apply to the majority of competitive games, but this article will primarily deal with the scope of fighting games.
By bellreisa - Last updated: Thursday, January 5, 2012
In the wake of Melty Blood's recent PC release, there has been a large influx of new player who find themselves at a loss when going up against the seasoned veterans from revisions past. While there are many determining factors in a match, such as character tiers, playstyles, decisions, and so forth, there are also a number of core concepts that may be overlooked that contribute to an inexplicable loss. This article will be an overview of one subtlety that these players may not be aware of: the concept of commitment in pressure. Please keep in mind that this concept is actually universal to nearly every competitive game in existence, but the examples utilized in this article will be tailored specifically for Melty Blood: Actress Again Current Code 1.07 for PC. This article is not going to go over Melty basics, so please refer to other sources for a tutorial.
By bellreisa - Last updated: Friday, December 23, 2011
The wiki consolidation project is finally completed. What's been done? Here's a run-down of everything that's happened:
Unused wikis have been removed: BlazBlue, Guilty Gear, Hokuto no Ken, Under Night In/Birth, and Touhou Hisouten Soku. For the first two games, please visit Dustloop for their new wikis. UNIB will receive a wiki if the game ever has an accessible console port; Soku has long since moved off Mizuumi.
All the remaining wikis are now unified under wiki.mizuumi.net. This central domain allows a single login to edit any page for any game, with no sidebar edit required. This is convenient for the user as well as administration to track changes and make any necessary updates.
Every wiki is now properly classified, with pages sub-categorized as appropriate for maximum navigational capability. Every page was manually ported over, which means edit history is lost, but all pages have been cross-checked for content and broken internal links (but not necessarily external ones).
You will need to reregister an account in order to edit the new wiki. Accounts take 24 hours to auto-confirm; this is only required for page creation, not page editing.
A number of stealth optimizations and tweaks have been made for increased responsiveness and lower load times.
Please let us know if you have any issues or questions. Thank you.
By Greats - Last updated: Friday, November 25, 2011
Here's a followup to my previous Nazuna Combo Guide that shows even more situational stuff, more optimized combos, character specific combos, and more.
By Greats - Last updated: Wednesday, November 16, 2011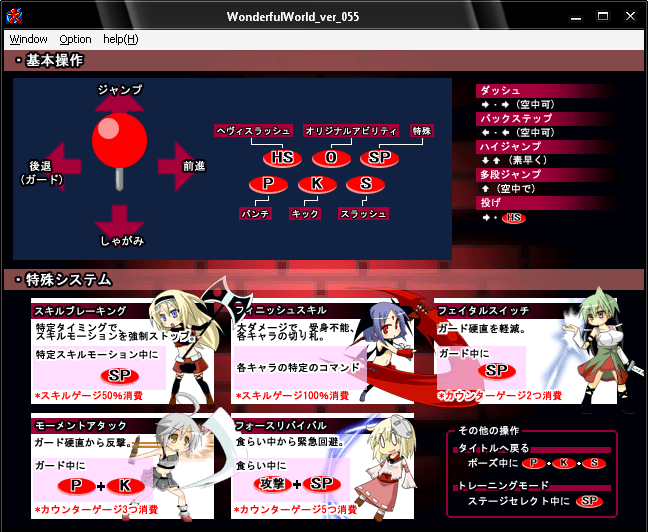 WW 0.55 is looking like a great update for the game. There's even more new moves than in the test version. More balance tweaks. More bug fixes. A minor system change. And of course, the new character Freide is finally completed. Now is a better time than ever to try it out.
Get the game from Ainefill's relocated website at http://ainefill.web.fc2.com/
Or from one of the links on the Wiki.
And you're welcome to come discuss or play the game on #WW
Here's a quick video covering some of the changes to characters that got new moves.
WW 0.55 Changes